Wenchuan & Ya'an Projects
Six years have passed since the Wenchuan Earthquake disaster that occurred on 12 May 2008. The Taiwan Red Cross has provided services ranging from disaster relief to reconstruction in seven counties in the Sichuan, Gansu, and Shaanxi Provinces. We have assisted in the reconstruction of 43 schools, 43 hospitals and one rehabilitation center, benefitting more than 32,600 students and 1.5 million people. We have also participated in various software reconstruction projects, including the Ministry of Education-financed Winter Plum Project, Community and Life Reconstruction Center Project, Support for the Disadvantaged Project, and Strengthening and Promoting Disaster Preparedness Project. To date, 80 disadvantaged students from affected areas have gone to college owing to scholarships presented by the Taiwan Red Cross.
Areas affected by the disaster were widespread and located mainly in remote and inaccessible mountainous areas, hindering post-disaster reconstruction efforts. The project execution rate for our Wenchuan Project is 94.7%, with several software programs and Ya'an relief items still in progress. All hardware items have been completed as of 2011.
Winter Plum Scholarship Program
The Taiwan Red Cross established the Winter Plum Scholarship Program with the aim to offer quality education to children in disaster areas, who are typically from modest backgrounds and live in remote vicinities. We hope to provide students with the opportunity to fully concentrate on their studies without having to worry about financial issues. Elementary students can apply for 1,000 RMB, middle school students 1,500 RMB, high school students 2,000 RMB, and college students 4,000 RMB. Over the course of nine semesters beginning in 2009, we have supported 11,396 students enrolled in 60 different schools.
Red Cross lunchboxes for disadvantaged children
Children enjoying their Red Cross lunchboxes
The Taiwan Red Cross has been implementing care plans for disadvantaged children throughout disaster areas, focusing on three main objectives: endorsing nutrition and health, improving schooling or living conditions, and stimulating learning and growth. In the 49 schools spread throughout eight counties in Sichuan, we have provided a total of 2,450 students with free lunches to ensure their complete, balanced nutrition.
---
Establishing local NGOs for community reconstruction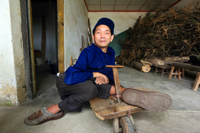 One of the many elderly Sichuan locals in need of care
The Taiwan Red Cross combined forces with other Taiwanese NGOs to form the 512 Post-Wenchuan Earthquake Taiwanese Service Alliance to provide elderly, children, disabled, women, community and health services. These NGOs helped to train local social workers to continue their work after they had left.
Strengthening disaster preparedness
According to IFRC's 2013 World Disasters Report, 90% of all disaster relief is carried out by community residents rather than foreign organizations. We have been strengthening the disaster preparedness of 29 disaster-prone regions in the Wenchuan area.