News & Events
2023/06/08
Multiple risks following Ukraine dam disaster
The members of the Ukrainian Red Cross are evacuating residents
On June 6, at 3 am, the destruction of the dam of the Kakhovka hydroelectric power plant caused rapid flooding of the surrounding areas, threatening the lives of civilians. It is estimated that 42,000 people are at risk from flooding. 17,000 people are in the immediate critical zone, but only 1,000 have relocated far from the dam because, according to the IOM (International Organization for Migration), most people hope to stay near their homes. In addition to the flooding, lacking clean water and the spread of disease are the major challenges.
The prime minister of Ukraine, Denys Shmyhal, urges the United Nations, the International Red Cross, and other organizations to act immediately to aid flooded inhabitants of southern Ukraine who are receiving no assistance in areas under the authority of Russian occupying forces.
Currently, members of the Ukrainian Red Cross are working tirelessly to evacuate residents. With the assistance of Ukrainian Red Cross Emergency Response Teams volunteers, the State Emergency Service, and the National Police, more than 800 people have been evacuated from the impacted areas, 66 people who have limited mobility are included. ICRC, IFRC, and National Societies are joining the action of humanitarian aid.
This attack threatens thousands of people, destroys the ecosystem forever, and is one of the most severe war crimes. Despite the fact that the cause of the destruction of the dam is not yet known, the attack on the dam violates international humanitarian law. "Article 56 - Protection of works and installations containing dangerous forces 1. Works or installations containing dangerous forces, namely dams, dykes, and nuclear electrical generating stations, shall not be made the object of attack, even where these objects are military objectives, if such attack may cause the release of dangerous forces and consequent severe losses among the civilian population."
To support the resiliency in communities, TRC's actions in responding to evolving needs are continuing. To follow up the humanitarian relief work, donations will be used for ICRC, IFRC, and National Red Cross Societies (NSs) to assist those affected people by the Russia-Ukraine conflict.
Bank Name: HUA NAN COMMERCIAL BANK, LTD. HO PING BRANCH
Account No.:121-20-0702223
Account Name: The Red Cross Society of the Republic of China
SWIFT Code: HNBKTWTP121
Tel: +886-2-2700-2405
Fax: +886-2-2709-9230
Bank Address: NO.93, HO PING EAST ROAD, SEC. 2, TAIPEI, TAIWAN, R.O.C.
Please click here if you wish to donate by
Credit Card
(Please specify the purpose of the donation in the field of "Comments or Suggestions" (Russia-Ukraine conflict).)
The images of the disaster/ BBC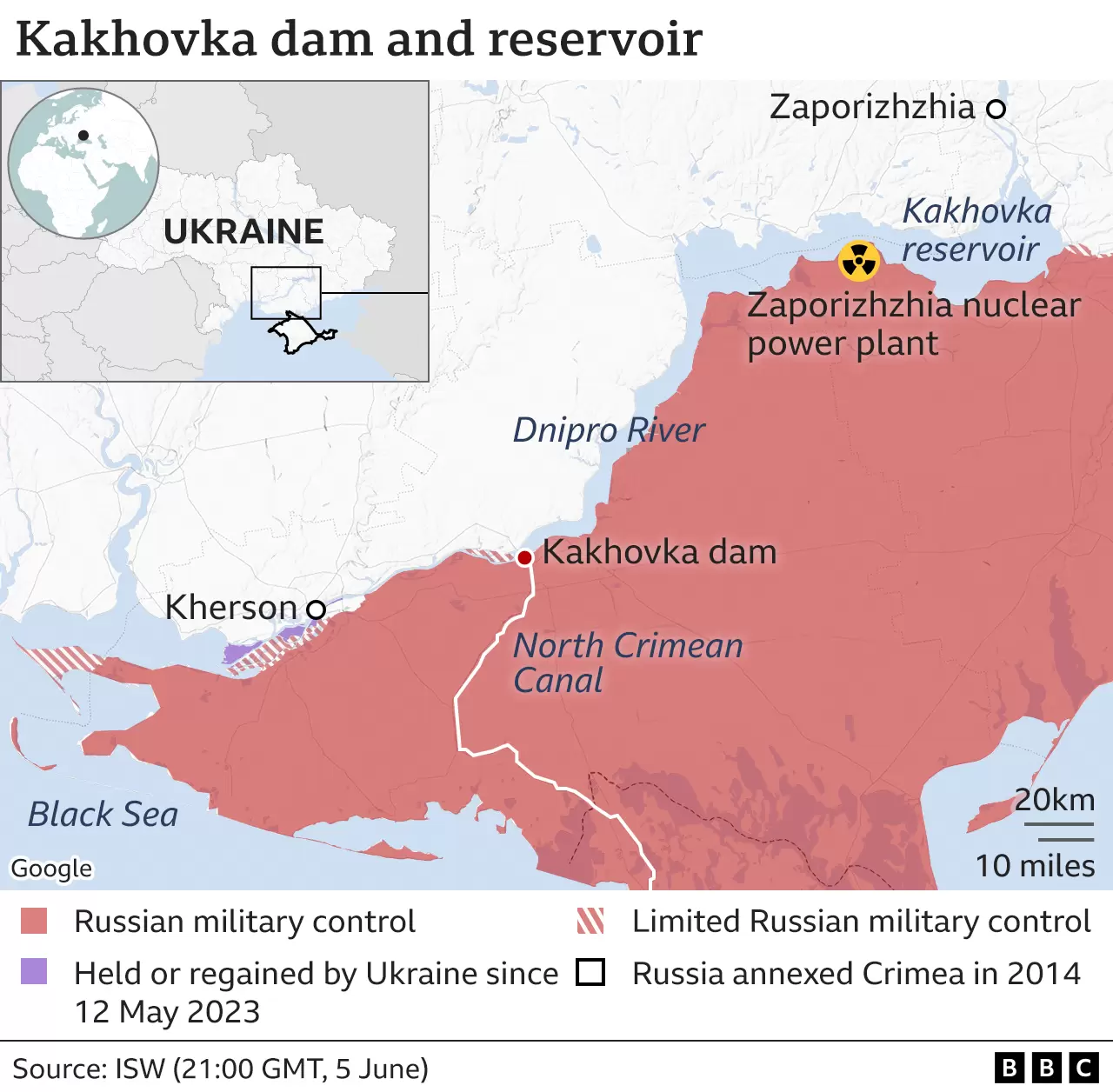 The map of the dam / BBC