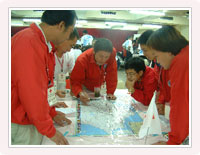 After 140 years of development, the Red Cross Movement's scope of relief has broadened from war and armed conflicts to natural disasters and other man-made disasters—ranging from emergency relief to non-emergency medical rescue, disaster response, disaster reconstruction and preparedness, the last of which is listed as one of the core tasks for the next decade. The International Federation of Red Cross and Red Crescent Societies formulated Strategy 2020, a comprehensive work plan for the years 2010-2020. The strategic aims for Strategy 2020 focus on disaster response and preparedness, improving living environments, and promoting humanitarian values and principles.
Disasters are likely to happen in succession and we must be prepared for them at all times. The Society has effectively implemented disaster preparation and response plans and has established Disaster Preparedness Centers in 25 counties and cities throughout Taiwan, where disaster management courses are offered to full-time staff and volunteers. Volunteers may take part in basic search-and-rescue and preparedness training and may further their training in the United States.
Adhering to the IFRC's SOP, the Society published the Relief and Disaster Preparedness Operations Manual and other related training material for use in training disaster relief volunteers. Pre-disaster volunteer training can shorten wait times when a major disaster occurs, as the Red Cross may immediately dispatch rescue teams to provide humanitarian aid services.